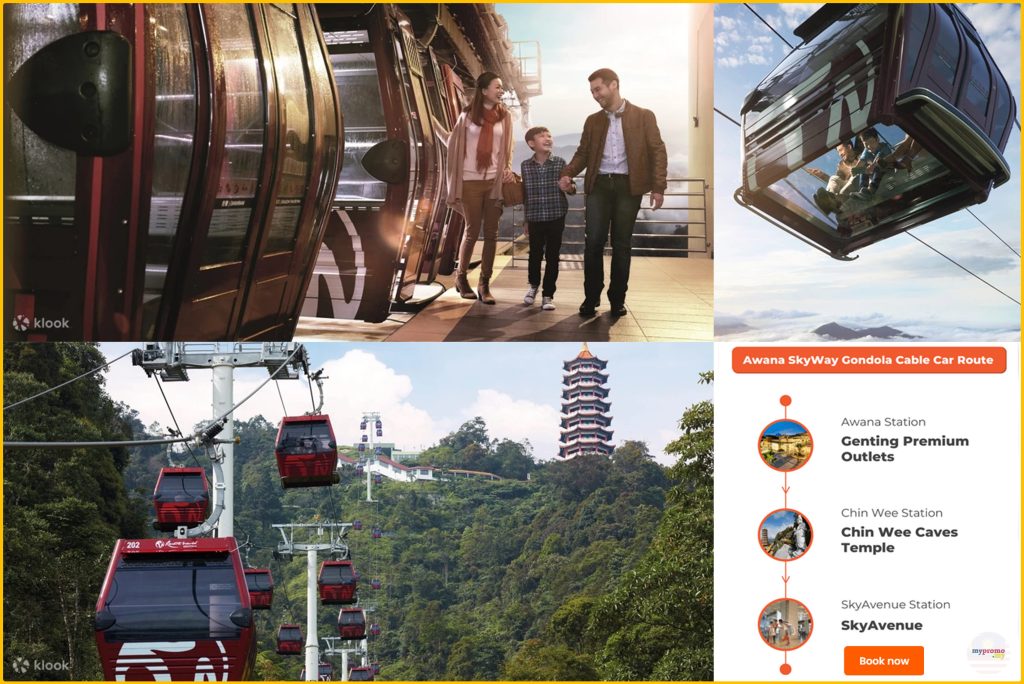 Try the Awana SkyWay Gondola, the famous Genting Highlands Cable Car that offers 360-degree views and crisp mountain air on a 10 minute ride! Get admission to the Awana SkyWay cable car and enjoy breathtaking views of the Genting Highlands and a 130-million-year-old rainforest. Book now here.
Book Awana SkyWay Gondola

Awana SkyWay Gondola: Genting Highlands Cable Car - Buy Tickets
Tickets are also available on
Lazada: https://invol.co/claz15y
Shopee: https://shope.ee/5pTnmQzIgK
What to expect at Awana SkyWay Gondola
See the picturesque landscape unfold aboard the Awana SkyWay, a gondola lift system serving Genting Highlands. You can leave your car at the Awana SkyCentral car park (adjoining Genting Highlands Premium Outlets) and board the Genting SkyWay cable car from Awana Station.
Fly up in just 10 minutes from the Awana Station at mid-hill to the SkyAvenue Station at the peak. The ascent from Awana Station to SkyAvenue Station is 620 metres. Disembark at the midway point, and pay a visit to the Chin Swee Caves Temple, a Taoist temple set on a 28-acre plot of rocky forested land, erected in honor of Buddhist monk and Reverend Master Chin Swee from the Fujian Province.
And the good news is if your mobile phone dies from taking photos and selfies, you can charge it in the gondola cable car! Feel the coolness of crisp mountain air, as the cabins are outfitted with special windows and louvres for the ultimate high flying experience. You can buy your Awana SkyWay tickets via Klook – choose between a standard gondola, or a glass floor gondola (one way or return).
Each standard gondola can fit 10 passengers while glass floor gondolas can fit six passengers. There are a total of 100 gondolas on Awana SkyWay, including 10 which are fitted with glass floors.