Agoda 6.6 Mega Sale is offering up to 15% off selected hotel bookings on 6.6 Sale. The offer is valid from 3rd – 16th October, 2022. Agoda is a leading online travel booking platform with over 2 million hotels in more than 200 countries and territories worldwide.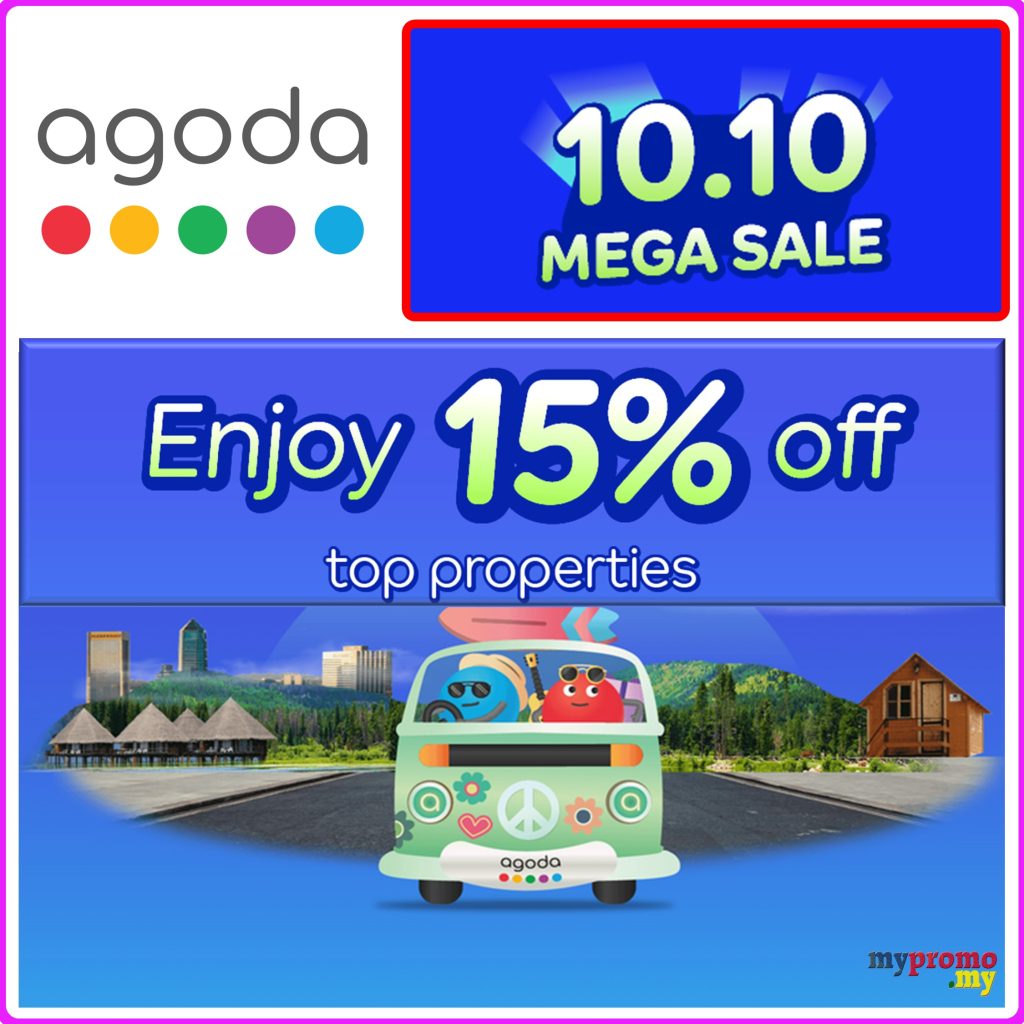 The Agoda app is your best tool for finding and booking the very best deals on any kind of accommodation or flights, anywhere in the world.
Agoda offers travelers a convenient way to book hotels, apartments, and homes around the world! This is a great opportunity for travelers to save on their next trip
Book Now

Agoda 10.10 Mega Sale Deals
Agoda x 6.6 Mega Sale Promotion LINK

Agoda Promotional Terms for 10.10 Mega Sale
Promotional Period: 3rd – 16th October, 2022
Agoda is very pleased to offer promotional nightly rates ("Promotional Rates") for certain Agoda Bookings made during the Promotional Period and with a check-in date on or before 1st January 2023 ("Promotional Bookings"). "Agoda Bookings" refers to bookings made through Agoda's online booking platform.
Provision of Promotional Rates, if any, to you shall be on a strictly as-is and as-available basis.
These promotional terms supplement the Terms of Use applicable to users of Agoda and available via the relevant link on the Agoda webpage at www.agoda.com ("Terms of Use"). Without limiting the rights of Agoda, the Cancellation Policy incorporated by the Terms of Use shall apply to any Promotional Booking made by you.
Any ambiguity in these promotional terms shall be construed in accordance with Agoda's interpretation.
Agoda may, at its sole discretion, immediately terminate this promotion at any time. However, Agoda shall make its best commercial efforts to honor Promotional Bookings made prior to any such termination. Notwithstanding anything to the contrary and to the maximum extent permitted by law, Agoda shall not be liable to you in connection with any Promotional Rates, Promotional Bookings, these promotional terms, or any other subject matter hereof.
Agoda's rights in relation to these promotional terms and/or the Terms of Use are complementary to the maximum extent possible, and each right of Agoda shall not be construed as limiting, restricting, or otherwise adversely affecting any other right of Agoda.
If any part of these promotional terms is found to be invalid, the remainder shall continue to be valid and the part found to be invalid shall be replaced with such new terms having a similar effect to the maximum extent possible.
Depending on each particular Promotional Booking made by you (if you make any), the Promotional Rate may be subject to additional taxes, fees, and/or other charges.
Please note that Agoda may display, on various promotional pages or graphics, tax-exclusive prices for your reference only; you should always check the tax-inclusive pricing displayed on the customer information page and payment information page (where you may enter your information before a booking is made.)
By making or benefiting from any Promotional Booking or benefiting from any Promotional Rate, you acknowledge and accept these promotional terms.
Phuket is the perfect base for island hopping in the Andaman sea. You'll get to discover the spectacular natural beauty of the azure sea, green-clad ...
Try the Awana SkyWay Gondola, the famous Genting Highlands Cable Car that offers 360-degree views and crisp mountain air on a 10 minute ride! Get ...