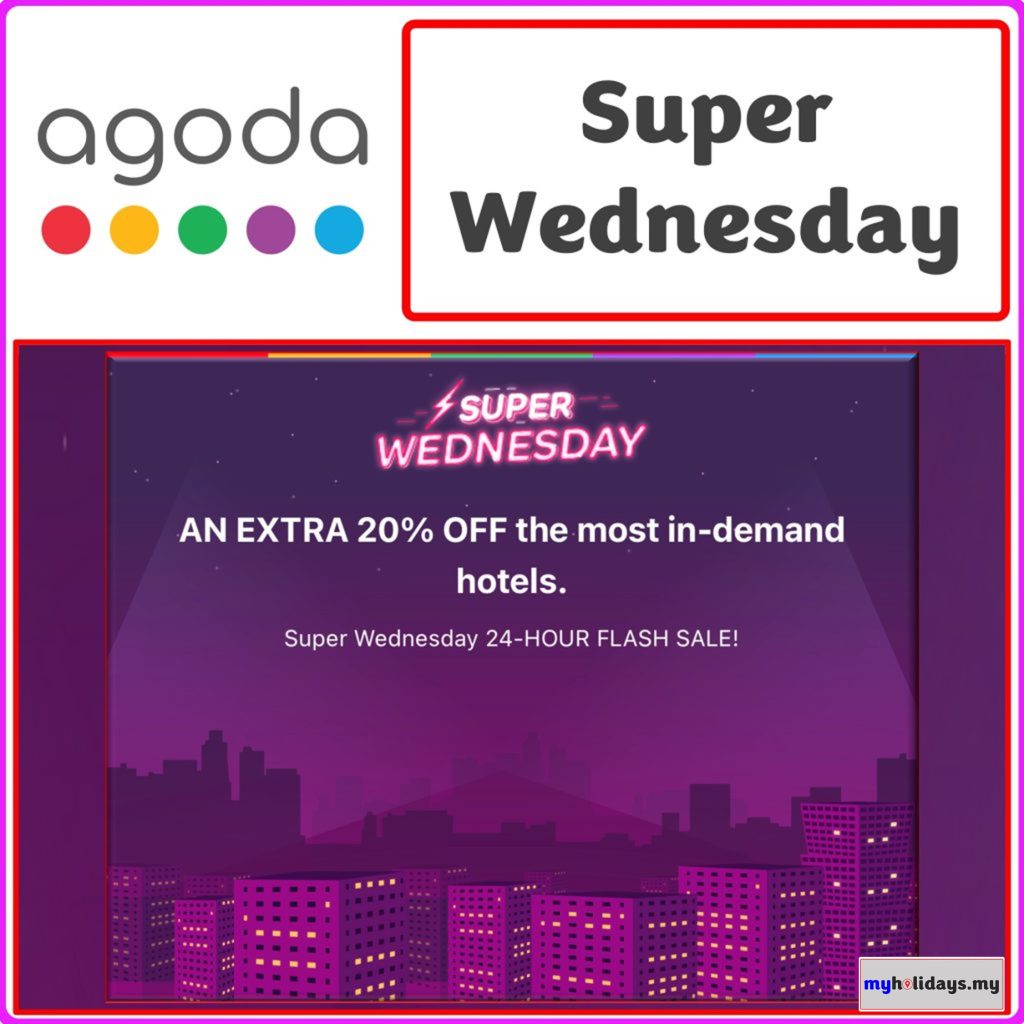 Agoda is offering an EXTRA an 20% off the most in-demand hotels on Wednesdays. Don't miss this Super Wednesday 24-Hour Flash sale! Agoda is a leading online travel booking platform with over 2 million hotels in more than 200 countries and territories worldwide.
Agoda offers travelers a convenient way to book hotels, apartments, and homes around the world! This is a great opportunity for travelers to save on their next trip.
Don't miss this exclusive offer only on Wednesday. Click here to enjoy Agoda exclusive discount!

Agoda Super Wednesday Flash Sale
Agoda Promotional Terms for Agoda Super Wednesday
Promotional Period: Every Wednesday
Agoda is very pleased to offer promotional nightly rates ("Promotional Rates") for certain Agoda Bookings made during the Promotional Period and with a check-in date on or before ("Promotional Bookings"). "Agoda Bookings" refers to bookings made through Agoda's online booking platform.
Provision of Promotional Rates, if any, to you shall be on a strictly as-is and as-available basis.
These promotional terms supplement the Terms of Use applicable to users of Agoda and available via the relevant link on the Agoda webpage at www.agoda.com ("Terms of Use"). Without limiting the rights of Agoda, the Cancellation Policy incorporated by the Terms of Use shall apply to any Promotional Booking made by you.
Any ambiguity in these promotional terms shall be construed in accordance with Agoda's interpretation.
Agoda may, at its sole discretion, immediately terminate this promotion at any time. However, Agoda shall make its best commercial efforts to honor Promotional Bookings made prior to any such termination. Notwithstanding anything to the contrary and to the maximum extent permitted by law, Agoda shall not be liable to you in connection with any Promotional Rates, Promotional Bookings, these promotional terms, or any other subject matter hereof.
Agoda's rights in relation to these promotional terms and/or the Terms of Use are complementary to the maximum extent possible, and each right of Agoda shall not be construed as limiting, restricting, or otherwise adversely affecting any other right of Agoda.
If any part of these promotional terms is found to be invalid, the remainder shall continue to be valid and the part found to be invalid shall be replaced with such new terms having a similar effect to the maximum extent possible.
Depending on each particular Promotional Booking made by you (if you make any), the Promotional Rate may be subject to additional taxes, fees, and/or other charges.
Please note that Agoda may display, on various promotional pages or graphics, tax-exclusive prices for your reference only; you should always check the tax-inclusive pricing displayed on the customer information page and payment information page (where you may enter your information before a booking is made.)
By making or benefiting from any Promotional Booking or benefiting from any Promotional Rate, you acknowledge and accept these promotional terms.
Awana SkyWay Gondola: Buy Tickets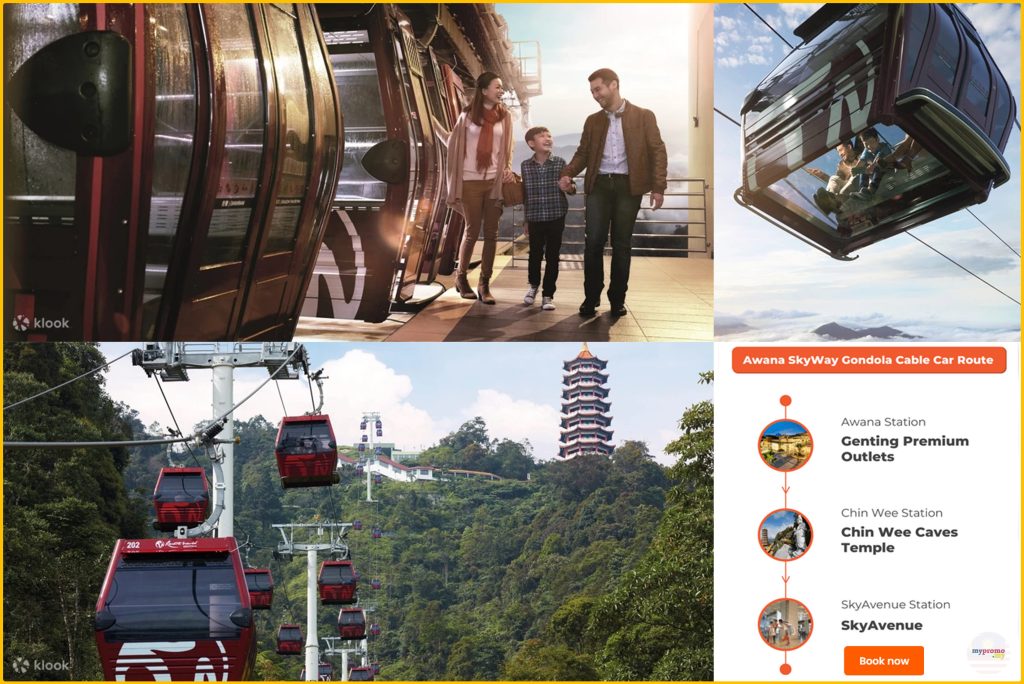 Try the Awana SkyWay Gondola, the famous Genting Highlands Cable Car that offers 360-degree views and crisp mountain air on a 10 minute ride! Get admission to the Awana SkyWay cable car and enjoy breathtaking views of the Genting Highlands and a 130-million-year-old rainforest. Book now here.
Book Awana SkyWay Gondola

Awana SkyWay Gondola: Genting Highlands Cable Car - Buy Tickets
Tickets are also available on
Lazada: https://invol.co/claz15y
Shopee: https://shope.ee/5pTnmQzIgK
What to expect at Awana SkyWay Gondola
See the picturesque landscape unfold aboard the Awana SkyWay, a gondola lift system serving Genting Highlands. You can leave your car at the Awana SkyCentral car park (adjoining Genting Highlands Premium Outlets) and board the Genting SkyWay cable car from Awana Station.
Fly up in just 10 minutes from the Awana Station at mid-hill to the SkyAvenue Station at the peak. The ascent from Awana Station to SkyAvenue Station is 620 metres. Disembark at the midway point, and pay a visit to the Chin Swee Caves Temple, a Taoist temple set on a 28-acre plot of rocky forested land, erected in honor of Buddhist monk and Reverend Master Chin Swee from the Fujian Province.
And the good news is if your mobile phone dies from taking photos and selfies, you can charge it in the gondola cable car! Feel the coolness of crisp mountain air, as the cabins are outfitted with special windows and louvres for the ultimate high flying experience. You can buy your Awana SkyWay tickets via Klook – choose between a standard gondola, or a glass floor gondola (one way or return).
Each standard gondola can fit 10 passengers while glass floor gondolas can fit six passengers. There are a total of 100 gondolas on Awana SkyWay, including 10 which are fitted with glass floors.